After a 4 years of planning and saving, the playground renovation is complete — and we're thrilled with the results!
We achieved our goal of creating an outdoor classroom for all ages. The new space combines basic playground accommodations like swings and monkey bars with rocks, logs and a variety of surfaces to challenge growing muscles. The amazing digging pit, log climbers and beautiful tree bench are among our favorite new additions. The well-defined areas give it the structure of a classroom while being open and spacious. Supervision sight lines are improved. There is ample opportunity for safe risk taking and open ended play. There are bushes to explore and gardens to nurture allowing children to connect with nature, taste, smell, and experience the natural world. It is soft, safe and naturally beautiful. We believe that every child will find their happy place on this playground and nurture their soul with fresh air and the freedom of the outdoors. Our heartfelt thanks to the donors, contributors and everyone who supported us on this journey!
Special thanks to: Jesse Coutrayer, The Bittersdorf Family, The Thayer Family, The Austin Family, The Giroux Family, The Kent Family, The Chill-Donnelly Family, The Sowers-Dinklage Family, The Trost-Meyer Family, The Guyette-Shiman Family, The Meullers-Prodell Family, The Springer Family, The Howell-Searforce Family, Jessie Beninati, Carol Bennett, Sandy Dooley, The Muyskens-Green Family, Mary Lockwood, The Ferries-Clavelle Family, The MacPherson Family, The Stoll-Edwards Family, The Brenner Foundation, The Quinn-Hood Family, The Hodgson Family, The Conroy Family, Todd Lockwood, The Lenes Family, Suzanne Boyajian, Building Bright Futures, The Agnes Lindsay Trust, The Grass Gauchos, Ginkgo Design, The Robin's Nest Board of Directors past and present, The staff and everyone who has supported the Nest in this huge accomplishment!
In the beginning there was concrete and metal. As the space developed, concrete was softened with dirt and grass.
Structures, swings and monkey bars were constructed and padded with mulch.
Throughout the evolution of the space we have always optimized seasonal offerings. We had a great road for bikes.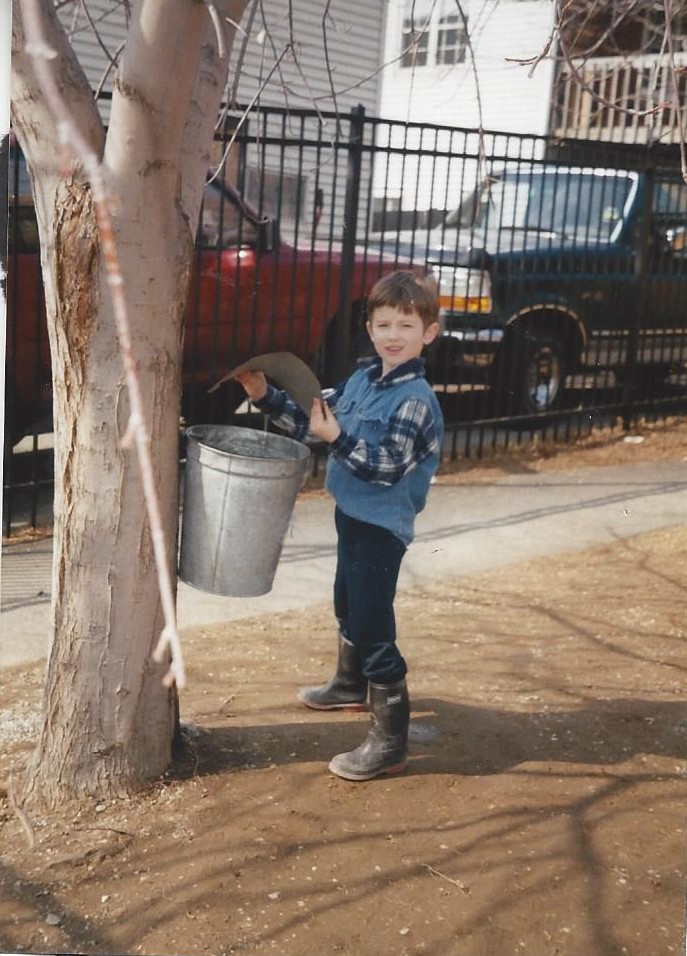 We tried and tried and tried to grow grass. The boat was a favorite feature for several years, until the adults tired of naughty preschoolers hiding in the tiny bow!
Throughout Nest history parents and staff have rolled up their sleeves to dig, build and re-imagine this space. By 2012 we realized it was time for significant renovation. The pea stone wasn't working, grass wasn't working, the concrete road was broken and the whole space seemed sad and unsafe. We began to dream, research and campaign to renovate the space.